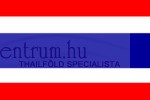 Full Country Name: Kingdom of Thailand (Prathet Thai, meaning "land of the free")
Capital city : Bangkok (Krung Thep, meaning "city of angels")
Area: 513,115 sq. km.
Time: The time in Thailand is seven hours ahead of Greenwich Mean Time (+7 hours GMT).
National Flag: The red, white, and blue stripes symbolize the nation, Buddhism, and the monarchy, respectively.
 
Language:
Spoken and written Thai is largely incomprehensible to the casual visitor. However, English is widely understood, particularly in Bangkok where it is almost the major commercial language. English and some European Languages are spoken in most hotels, shops and restaurants in major tourist destinations, and Thai-English road and street signs are found nationwide.

Geography:
The kingdom of Thailand lies in the heart of Southeast Asia, making it a natural gateway to Indochina, Myanmar and Southern China. Its shape and geography divide into four natural regions : the mountains and forests of the North; the vast rice fields of the Central Plains; the semi-arid farm lands of the Northeast plateau; and the tropical islands and long coastline of the peninsula South.
The country comprises 76 provinces that are further divided into districts, sub-districts and villages. Bangkok is the capital city and centre of political, commercial, industrial and cultural activities. It is also the seat of Thailand's revered Royal Family, with His Majesty the King recognised as Head of State, Head of the Armed Forces, Upholder of the Buddhist religion and Upholder of all religions.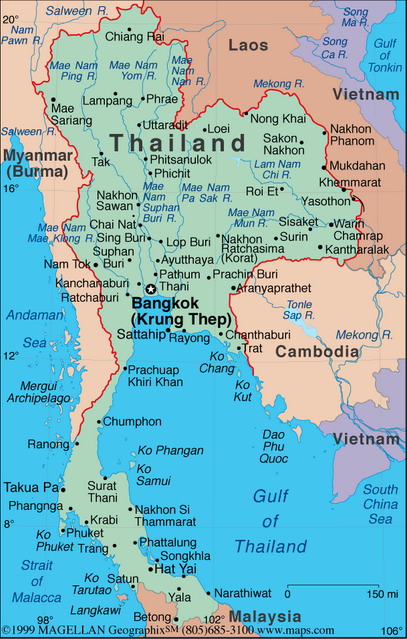 Neighboring countries:
1)Myanmar-west and north,
2)Lao P.D.R. - north and northeast,
3)Cambodia - southeast and
4) Malaysia - south.
 
Climate :
Thailand enjoys a tropical climate with three seasons: hot (March-May), rainy with plenty of sunshine (June-September) and cool (October-February). Temperature during the time of the Congress is approximately 28°C (80°F )
 
Topography:
Thailand is divided into 4 natural regions: The mountainous North, with its profusion of multi-coloured orchids, fascinating native handicrafts and winter temperatures are sufficiently cool to permit cultivation of temperate fruits such as strawberries and peaches; The high Northeast Plateau, which still jealously guards its many archaeological and anthropological mysteries; The Central Plain, one of the world's most fertile rice and fruit-growing areas with colourful traditional culture and way of life as well as the sandy beaches of the East Coast and vibrant cosmopolitan Bangkok; The peninsular South where the unspoiled beaches and idyllic islands complement economically vital tin mining, rubber cultivation and fishing.

Money :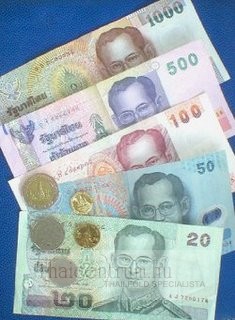 Currency and Currency exchange : The Thai unit of currency is the baht 1 baht is divided into 100 satang. Note are in denominations of 1,000 (brown), 500 (purple), 100 (red), 50 (blue), 20 (green) and 10 (brown) baht. Coins consist of 25 satang, 50 satang, 1 baht, 5 baht and 10 baht.
Major currency bills and travellers cheques are cashed easily at hotels, tourist shops, all provincial banks, shopping centres and money changers. Travellers cheques are best changed in banks (you will need your passport). Rates of exchange at banks or authorized money changers are better than those at hotels and department stores.

Any amount of foreign currency may be brought into the country. Visitors may takeforeign currency out of Thailand, but no more than the amount stated in the customs declaration made on arrival. Travellers leaving Thailand may take out no more than 50,000 baht per person in Thai currency.
Credit Cards: Credit cards are widely accepted. For lost cards :
American Express Tel : (662) 273 5100 or (662) 273 0022
Diners Club Tel : (662) 238 2920 or (662) 238 2680
Master Card Tel : (662) 256 7326-7
Visa Tel : (662) 256 7326-7
 

Bargaining :
Fixed prices are the norm in department stores, but at most other places bargaining is to be expected. Generally, you can obtain a final figure of between 10-40% lower than the original asking price. Much depends on your skills and the shopkeeper's mood. But remember, Thais appreciate good manners and a sense of humor. With patience and a broad smile, you will not only get a better price, you will also enjoy shopping as an art.
 
V.A.T. Refunds :
Visitors entering the Kingdom on a tourist visa are entitled to refund of the 7% V.A.T. on goods purchased at registered retail outlets.
 
Religion :
Theravada Buddhism is the professed religion of more than 90% of all Thais. The Thais have always subscribed to the ideal of religious freedom. Thus sizeable minorities of Muslims, Christians, Hindus and Sikhs freely pursue their respective faiths.

Government: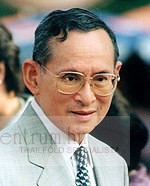 Thailand has had a constitutional monarchy since 1932. Parliament is composed of 2 houses, The House of Representatives and the Senate. Both representatives and senators are elected by the people. A prime minister elected from among the representatives leads the government. The country is divided into 76 provinces. The Bangkok Metropolitan Administration comes under an elected governor. Appointed provincial governors administer the other 75 provinces (Changwat), which are divided into districts (Amphoe), sub-districts (Tambon) and villages (Mu Ban).
 
Travel to Thailand :
Thai Airways International, ISW03 Official carrier, operates a network of services from 57 airports in 4 continents. International airports are in Bangkok, Chiang Mai, Hatyai and Phuket.
 
Official Congress Carrier :
THAI Airways International is appointed the Official Airline for International Surgical Week ISW03 and prepared to offer special airfare for participants. Please contact THAI's office in your area for assistance in travel arrangement. It is important to refer to the event code "TG03082405" when contacting THAI's office.
 
Travel within Thailand :
Thai Airways International operates an extensive domestic network with daily services linking virtually all major destinations with Bangkok. A number of private airlines also serve selected routes. Ground transportation, by coach and rail, is comprehensive, convenient and economical.
 
Transportation in Bangkok :
The Skytrain elevated rail system, opened in 1999, provides convenience with 2 lines: Silom Line from Taksin Bridge to National Stadium; and the longer Sukhumvit Line from Moh Chit near Chatuchak Weekend Market to On Nut, near BITEC center. This line runs along Sukhumvit Road where some of the official congress hotels are located. The Skytrain operates daily from 06:00-24:00 hrs. with fares ranging between Baht 15-40, and stored value cards are available.
Taxis are air-conditioned and use the meter, with a very reasonable fare structure. There are taxi stands but they mostly cruise around and can be flagged for a ride.
Note: special transportation will be provided from official hotels to BITEC center on the days of ISW03
 
Currency, Credit Card :
The Thai currency is the Baht. Current exchange is USD 1 = Baht 34 (FEB. 2009). Cash and traveler's cheques can be conveniently cashed at bank kiosks near major hotels and attractions.
All major credit cards such as American Express, Diners Club, JCB, MasterCard and Visa are accepted at most hotels, restaurants and shops.
 
Business Hours :
Most businesses in Bangkok operate on a five-day week basis. Government offices are generally open between 8:30 a.m. and 4:30 p.m. with a 12 noon to 1:00 p.m. lunch break, Monday through Friday, except on public holidays. Private businesses maintain much the same hours - perhaps 9:00 a.m. to 5:00 p.m., with certain exceptions. Many stores open 12 hours a day, seven days a week.
 
Shopping :
Bangkok is 'Mecca' for shoppers, with great bargains from street side stalls to modern malls. Leading stores offer VAT Refund for minimum purchase of Baht 2,000 per day. Minimum amount for VAT Refund is Baht 5,000.
 
Church Services :
Christian churches are found in Bangkok and most provincial capitals. Services are mostly in Thai, with some services in English, French and German. Local English language newspapers provide comprehensive listings of services in Bangkok.
 
Clothing :
Light, loose cotton clothing is best. Generally clothes which 'breathe' well are practical in this tropical climate. Sweaters are needed during Cool Season evenings or if visiting mountainous areas and remote national parks. Jackets and ties are dress code in some leading hotels.
 
Electricity :
The electric current is 220 Volt AC (50 cycles) throughout the country. There are varying types of plugs and sockets in use, so it is useful to carry a travel plug adapter kit. The better hotels supply 110 Volt transformers.
 
Film and Photography :
Major international film manufactures maintain excellent photo finishing laboratories. Instant developing can be done within an hour. Films are available countrywide at reasonable prices. Photograph can be taken of almost everything except the inner sections of the Grand Palace, Emerald Buddha Chapel and inside museums.
 
Newspapers and Magazines :
Thailand's major English language newspapers, the Nation and The Bangkok Post keep readers abreast of local and international events. Major English language magazines and newspaper such as International Herald Tribune, Wall Street Journal, Newsweek, Time and Asiaweek are readily available at hotel gift shops, newsagents, supermarkets, department stores and leading bookstores.
 
Etiquette in Thailand :
Polite behavior is welcome everywhere, and what is considered polite in other countries is probably considered polite in Thailand, too. However, there are a few cultural pitfalls, mainly social and religious taboos, the breaking of which can cause offence:
For example, Thais revere their royal family. Even social malcontents who ignore legal and community standards refuse to tolerate a faintly implied slight on the Thai monarch.
Outward expressions of anger are regarded as crude and boorish. The visitor who remains calm and smiles appreciatively will find all sorts of doors open to him.
Visitors should dress neatly in all religious shrines. They should never go shirtless, or in shorts, hot pants or other unsuitable attire.
Shoes should be removed when entering private Thai homes; chapels where Buddhist images are kept; and any of the Islamic community's mosques.
Each Buddha image, large or small, ruined or not, is regarded as being a sacred object. Never climb onto one to take a photograph or do any thing that might show lack of respect.
Public displays of affection between men and women are frowned upon. Westernized Thai couples may hold hands but that's as far as it goes in polite society.
It is considered rude to point your foot at a person or object.
Thais regard the head as the highest part of the body, both literally and figuratively. Therefore, they do not appreciate anyone patting them there, even as a friendly gesture.
 
Thai Cuisine :
Thai cuisine is distinctive, thanks to the liberal use of spicy ingredients, and combines the best of Chinese and Indian culinary traditions - noodles, curries, sweet and sour dishes, lengthily cooked and fast-cooked ingredients, exotic spices and condiments - while retaining its own very special character.
Health Regulations :
No inoculations or vaccinations are required unless the visitor is coming from or passing through contaminated areas.
 
Customs Regulations :
For personal use, one liter of alcoholic beverage, 200 cigarettes plus reasonable personal effects (such as one still camera, one movie or video camera, personal jewelry, etc.) may be brought in duty free and taken out on departure. Unlimited foreign currency, traveler's cheques and money orders may be brought into the country but any amount over USD 10,000.- must be declared on entry. Amount taken out of Thailand may not exceed amount taken into the country.
 
Tipping :
Tipping is not a usual practice in Thailand although it is becoming more common. Most hotels and restaurants add a 10% service charge to the bill. Taxi drivers do not require a tip, but the gesture is appreciated and 10-20 baht is acceptable for porters.
It is customary to tip hotel personnel who have given good service.
 
Health Regulations :
No inoculations or vaccinations are required unless the visitor is coming from or passing through contaminated areas.
 
Customs Regulations :
For personal use, one liter of alcoholic beverage, 200 cigarettes plus reasonable personal effects (such as one still camera, one movie or video camera, personal jewelry, etc.) may be brought in duty free and taken out on departure. Unlimited foreign currency, traveler's cheques and money orders may be brought into the country but any amount over USD 10,000.- must be declared on entry. Amount taken out of Thailand may not exceed amount taken into the country.