Thailand is one of the best places in Asia for shopping and visitors will be spotlit for choice with the huge, glitzy shopping malls, department stores, small shops and bustling street markets. Both Bangkok and Chiang Mai have excellent night markets.
Good buys include Thai silks and cottons, leather goods, batiks, silver and gold, pottery with celandine green glaze, precious and semiprecious stones (in particular rubies and sapphires are indigenous to Thailand), pearls, dolls, masks, painted umbrellas, lacquer ware, pewter ware, bamboo and wood artifacts and bronze ware.
The weekend market at Chatuchuk in Bangkok is a regular cornucopia with hundreds of stalls stocking items ranging from genuine antiques to fighting fish.
Tailor-made clothes are also good value and can be made in a matter of days, yet the standard is very high.
Duty free shops are located throughout the country and items can be purchased there and delivered to the airport in time for the departure flight. Value Added Tax ( 7% ) can be refunded on goods bought in shops labeled 'VAT Refund for Tourists', where there is a minimum transaction of ฿2,000 including VAT.

VAT Refund Application for Tourists forms are completed at the time of purchase and it is necessary to show one's passport.Cash refunds (minimum 5,000 Baht) can be obtained in the airport departure hall and often the goods purchased must also be shown.
 
Chatuchak Weekend Market
Chatuchak (or Jatujak; Thai: จตุจักร) weekend market in Bangkok is the largest market in Thailand, and largest of the world. Frequently called J.J., it covers over 35 acres (1.13 km²) and contains upwards of 15,000 stalls. It is estimated that the market receives between 200,000 and 300,000 visitors each day. Most stalls only open on Saturdays and Sundays.
The market offers a wide variety of products including household items, clothing, Thai handicrafts, religious artifacts, collectibles, foods, and live animals for your shopping style at Thailand.. 
Chatuchak market is adjacent to the Kamphaengphet station (MRT) of the Bangkok Metro, or about a 5-minute walk from the Mo Chit Skytrain (BTS) station and Suan Chatuchak(Chatuchak Park) station(MRT). Open Hours: 08:00 - 18:00 on weekends and Fridays (wholesale day). Plant shops are open Wednesdays and Thursdays too from 07:00 - 18:00.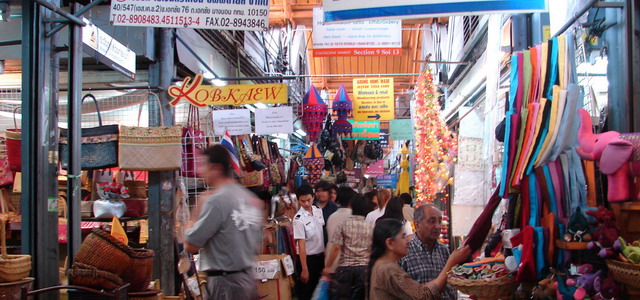 Shopping in China Town Thailand
China Town, Yaowarat
Bangkok's Chinatown or the other name Sumpeng is located on Yaowarat Road in Samphanthawong district.
The Chinatown is an old business centre covering a large area around Yaowarat and Charoen Krung Roads. There are many small streets and alleys full of shops and vendors selling all types of goods to shopping. One of the best place to shopping in thailand.
   
Shopping in Night Bazaar Thailand
Suan lum Night Bazaar
Suan Lum Night Bazaar is a market in Bangkok's Pathum Wan district, at the intersection of Rama IV and Wireless/Sathorn Roads, opposite Lumphini Park at the Bangkok Metro's Lumpini station. When locals refer to this market in english they call it "Night Plaza". Located on land owned by the Crown Property Bureau, it opened in 2001. The lease on the property ran out in 2006 and the market will be closed in 2007.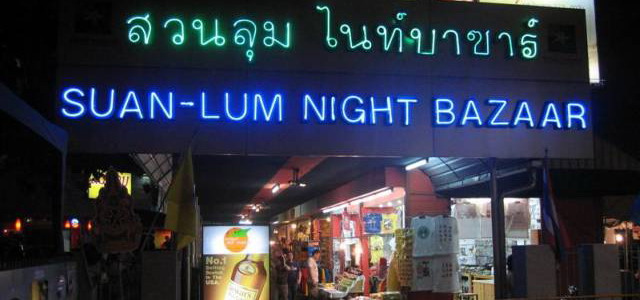 Shopping in Silom Road Thailand
Silom Road
Si Lom (or Silom ) is a road in Bang Rak district, Bangkok, Thailand. It is a entertainment and shopping district in Thailand's capital, adjacent to Sathorn business district. This causes a heavy load of traffic not only during rush hours that is considered to be the most dense of the city.
   
Shopping in Patpong Thailand
Patpong
Patpong (Thai:"Phatphong") is an entertainment district in Bangkok, Thailand, catering mainly, though not exclusively, to foreign tourists and expatriates. While Patpong is internationally known as a red light district at the heart of Bangkok's sex industry, the city in fact has numerous red-light districts that are far more popular with Thai men. A busy night market aimed at tourists is also located in Patpong.

Shopping in Siam Paragon Thailand
Siam Paragon, a 15-billion-baht project covering 5000,000 sq.m., will offer over 250 world class brand names and local brand names under one roof, as well as a Department Store, Supermarket, and Edutainment and Entertainment Center. It is on course to become the largest shoppng complex in South East Asia.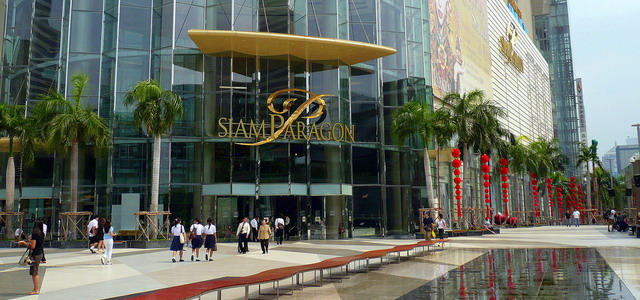 Siam Paragon is a joint venture between Siam Piwat and The Mall Group, two of the most prominent retail realestate development in Thailand. The fifty fifty joint venture is registered as Siam Paragon Development Co., Ltd. and Siam Paragon Retail Co., Ltd. with 600-million baht initial capitalization. Siam Paragon has been conceived as a national showpiece for Thailand. It is located on extremely prestigious land belonging to Sra Prathum Palace in the heart of the city. The project is intended to enhance Bangkok as a World-class detination by offering the best shopping experience in town to locals and tourists alike. The intention is to stimulate the economy and foster confidence among foreign investors.
   
Shopping in MBK Center Thailand
MBK Center , an enormous 8-storey marble mall opened in 1985, is one of the biggest shopping malls in Asia . The center provides over 2,000 stores and services, over 150 eating establishments and a large cinema city. ShoppAs a leading developer and operator of luxurious hotels, office buildings and shopping centers in the heart of Bangkok, we are optimistic about exploring new ing here, you'll find.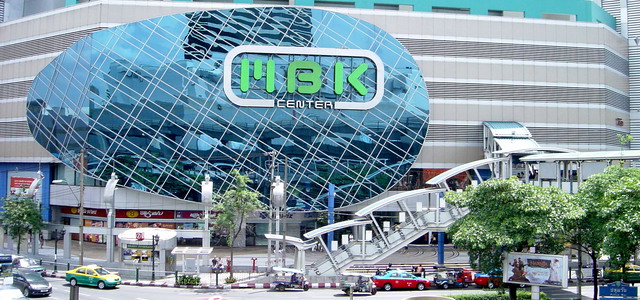 Shopping in Gaysorn Plaza Thailand
Representing the excellence of life, Gaysorn is the home of choice for international high-end brands to showcase their flagship stores.
One could say that it is Thailand's very own Champs Elys'e. Make your visit to Gaysorn a one-stop luxury shopping centre in Bangkok.
   
Shopping in Pantip Plaza Thailand
Pantip Plaza is an indoor IT shopping mall located on New Phetchaburi Road in Ratchathewi district, Bangkok, Thailand. The sale of counterfeit software and DVDs are the major reasons behind this mall's success and notoriety.

Shopping in Emporium Thailand    
The Emporium, Thailand's first luxurious fashion and lifestyle shopping complex, is situated in the heart of Sukhumvit Road. Features a one - stop shopping concept complete with leading international brands, a full-scheme department store, a five-star movie complex, kid's playground, gourmet market, a wide selection of chic cafés and restaurants, beauty salons, jewelry shops and lots more. You will discover premium goods, unique and exotic Thai handicrafts, and world-class brands in a warm and relaxed atmosphere.The shopping complex combines several flagship stores, and to some brands, such as Cartier, Chanel, Hermés, and Tod's. Emporium was their first outlet in Thailand.

Shopping in River City Thailand
River City Shopping Complex
On the historic River of Kings is a luxurious showcase for all the diversities of Thai art and culture. For visitors and collectors of oriental art world over. River City represents a new experience.
   
Shopping in Central Thailand    
Central Department Store
The Central Group of Companies has steadily evolved into a vast business conglomerate bestriding the retail, marketing, real estate, hotel and fast food sectors in Thailand. With its proven track record and dynamic potential to meet the ever-changing needs of consumers, the group is in an unparalleled position to profit from the competitive business environment.