Thai Food & Cooking
Thai food has become in recent years one of the world's favorite cuisines. When we speak of "Thai food ", we are in fact talking of four very distinct regions in the country, each with their own culinary traditions. We are speaking too of the dishes created in the royal courts and palaces of Old Siam, that have been passed down through many generations of chefs, and finally into public domain.
Good food also comes up from the street level, and many of Thailand's most popular dishes can be found at the smallest food stalls and restaurants. And there is the influence of China, India, Malaysia and other neighbouring countries. So all these different factors come together under the label "Thai food", and you will find them in varying degrees at any Thai restaurant you care to visit, anywhere in the world.
One of the most distinctive aspects of the cuisine is its use of herbs and spices. With regard to the spices, some Thai dishes are very hot, but by no means all of them. The herbs have another function, in addition to providing flavour, in that they all have to varying degrees various medical and therapeutic benefits.
Thailand has a long history, going back to ancient times, of the use of herbs for medical purpose, and this in turn has permeated the ways of cooking and preparing food. Coupled with its low-fat qualities and its essential freshness, this helps make thai food one of the healthiest anywhere. Another important aspect about Thai food is the hospitality and friendiness, the sheer enjoyment of good companionship and of eating that is such a powerful element of the Thai personality. Sharing a meal is an important part of the day for any Thai person, and meal are very seldom taken alone. That is why all the dishes are generally served at once during Thai meal, and why there is a communal spoon placed alongside each dish for people to help themselves and to serve others.
A Thai meal ideally is a communal affair, principally because the greater the number of dinners the greater the number of dishes that can be sampled. Diners choose what ever they require from share dishes and generally add it to their own plate of rice. All the dish are serve simultaneously, or nearly so. The object is to archive a harmonious blend of the spicy, the subtle, the sweet and sour, and a meal is meant to be equally satisfying to the eye, nose and palate.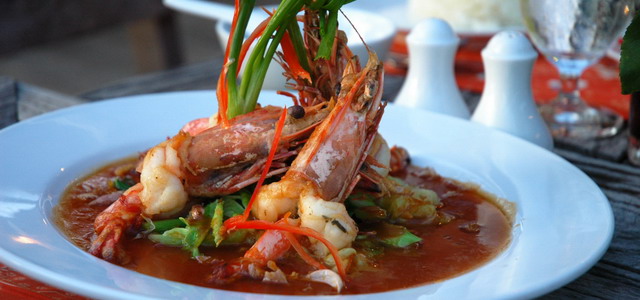 Thailand is blessed with many varieties of plants, herbs and spices which ensure s balanced diet. Today, visitors can both relish classic Thai menus and the benefits of a natural diet, and study the art of Thai cooking at several specialist schools in Bangkok and major beach resorts.         

Thai herb and spices
Some important herbs and spices used in thai cooking
 
Thai food is currently enjoying an international vogue. There are numerous Thai restaurants all over the world in big like such as Los Angeles, Tokyo , New York, Paris and many others. The following are some essential herbs and spices used in Thai cooking. The proper combination of all these ingredients is regarded as a big art in Thailand, one that requires both skill and time. The preparation of a single sauce can take hours of grinding, tasting and delicate adjustment until the exact balance of flavours is archived. Only then, can the true glory of Thai cooking be fully appreciated.
Basil (horapha, kaphrao, maenglak)
Horapha, kaphrao, maenglak are varities of sweet basil. Horapha is used here as a vegetable and for flavouring. Fresh leaves can be chewed as a breath freshener. Kaphrao leaves are narrower and often tinged with reddish purple. It releases its aroma and flavour only when cooked and is used with fish, beef and chicken. Maenglak leaves are slightly hairy and paler green than horapha. It is sometimes called lemon-scented basil but definitely has a peppery taste when chewed; it is used as a vegetable and for flavouring.
 
Cinnamon (ob choei)
From the bark of a tree, the type of cinnamon used in Thailand is of only one kind, that from the Cassia tree. It is used in meat dishes and particulary in massaman curry as garnish.
Chili, bird (phrik khi nu)
The smallest of the chilies, of which the kind called phrik khi nu suan is the hottest. Take care when chopping them, and do not rub your eyes. Chilies stimulate blood circulation and are reputed to help prevent heart disease and cancer.
Chili (phrik chi fa)
Phrik chi fa are finger size, growing 9-12 centimatres in length, and either yellow , red or green. Not as hot as the bird chili. There is no discernable difference between the colours.
Citron (som sa)
Citron (Citrus medica var limetta) is a round dark green fruit. Its thick , very aromatic skin is much used for flavouring. Sour orange juice and orange peel would make the best substitute.
Clover (kanphlu)
Clover (Eugenia aromatica) are the dried flowerbuds of an evergreen tree native to the Molucca islands. They are almost as expensive as saffron because crops often fail, because they are much used in Western cooking and because the oil is antiseptic. Cloves are used in massaman curry and to chew as a relief for toothache.
Coriander (phak chee)
The leaves are often choosen for decoration, with stem and roots for seasoning. Heavily used in Asian kitchens, the Thai kitchen is the only one to use the roots as well.
Cumin (yira)
Seeds look like caraway and fennel, but taste quite different and have to be heated to release their aroma. Only cumin is used in Thai cooking, mainly in the making of curry pastes.
Galangal (kha)
Resembling an upturned claw, this member of the ginger family is a pale pink rhizome with a subtle citrus flavour. I t is usually added in large pieces to impart flavour to fish or chicken stock, or used in making curry pastes. Fresh young ginger can be substituted, but you will not end up with the same flavour.
Garlic (krathiam)
Thailand is literally overflowing with garlic plants. Whole cloves, smashed garlic and garlic oil are used in almost every Thai dish.
Ginger (Khing)
Easily grated, khing is eaten raw or cooked and is used widely in many Asian Cuisines. Young ginger pounded with a little salt, pepper and garlic is good too as a marinate for chicken or beef. Ginger is acknowledged to improve digestion and to counter-act nausea and vomiting.
Krachai
No English common name for krachai (Kaempferia pandurata). The tubers of this ginger look like a bunch of yellow brown fingers. Krachai is always added to fish curries , and peeled and served as a raw vegetable with the popular summer rice dish, khao chae.
Kaffir lime leaf (bai makrut)
From the kaffir lime, which has virtually no juice, these fleshy green and glossy leaves resemble a figure eight. Imparting a unique flavour, they can be finely shredded and added to salads, or torn and added to soups and curries.
Lime (manao)
The whole fruit is used. It is an eccellent source of vitamin C and are used to enhance the flavour of chili-hot condiments, as well as create some very special salads and desserts ,and adorn most dishes as a condiment.
Lemongrass (takhrai)
Young tender lemongrass stalks can be finely chopped and eaten, but older stalks should be cut into 3-5 centimetres lengths and bruised before being added only as a flavouring agent. It is indispensable for tom yam. Lemongrass oil will sooth an upset stomach and indigestion.
Mace (dok chan)
The orange outer covering of nutmeg, the fruit of an evergreen tree native to Indonesia. Mace (Myristica fragrans) is used in the making of massaman curry.
Mint (bai saranae)
This mint (Mentha arvensis) is similar to the mint used for mint sauce in England and is used in Thai food as a vegetable and a flavouring.
Nutmeg (luk chan)
The nut is enclosed in a very hard brown shell. It is used in the making of massaman curry paste.
Pandanus leaf (bai toei)
Long narrow green leaves of a hernaceous plant used for flavouring and colour.
Pepper (prik thai)
Black , white and green peppercorn types. Black is milder and more aromatic than white. Green peppercorns have a special taste all their own and are available all year round but are best towards the end of the rainy season. Used as flavouring.
Sesame (nga)
Identical to sesame seeds the world over. In Thai cooking sesame seeds are used for oil and for flavouring. This tiny seeds are rich in protein.
Shallot (hom daeng)
These smell, zesty , Thaired onions are sweet and aromatic. An essential ingredient in many Thai dishes because of their taste and appearance, they can be substituted with European shallots, small red onions or small brown onions.
Spring onions (ton hom)
These green onions (Allium fistulosom) are used for garnishing soups and salads and as vegetables.
Turmeric (khamin)
These small, bright orange roots are used for the colouring in yellow curries. White turmeric, a different type, is used as a raw vegetable and resembles ginger. It tastes only slightly peppery and has a pleasant tang.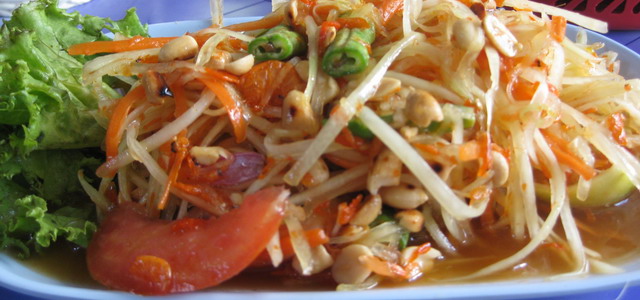 Variety of Thai Food

Snack
These savoury titbits can be eaten alone or as side dishes. Traditional favourites  include stuffed dumpling, satay, crisp-fried noodles topped with sweet-and-spicy sauce, and  spring rolls.

Chilli dips
Usually served with vegetables, meat or fish, chilli dips are very versatile. A dip can be a main dish or side dish, added to a  pan  of fried rice to flavour it, or drizzled on chips to liven them up. A cook will make up a bowl of dip from whatever is available, including chilies, garlic, onion, shimp paste, sour tamarind etc.

Salads
Thai salads, called yam, are sour, sweet and salty. A simple dressing works equally well for meat, seafood, vegetable and fruit salads. This is made from fish sauce, lime juice and a dash of sugar. The heat comes from the fiery little chillies, but just how hot a salad should  be depends on the texture and flavour of the meat, vegetable or fruit used. Fresh  herbs such as marsh mint, lemongrass, kaffir lime leaves and cilantro are usually used as garnish.

Soups
Thai soups are either hot and spicy or clear and bland. The soup is served not as a first course but together with the other dishes, and can be spooned onto the plate of rice the same as  the other dishes.

Desserts
Thai desserts are sweet, but not intensely so. Sticky rice with ripen mango, banana or flour dumpling in sweetened coconut cream and seasonal fruits in sugar syrups with crushed ice are  favourites. Fresh fruit is always on hand to end a Thai meal.

Curries
The heart of all Thai curries is the curry paste, which is made from fresh herbs and spices. The paste is cooked in coconut cream before the meat or vegetables are added. Main ingredients in most curry pastes are chilli, garlic, shallot, galangal, coriander root and krachai, the latter a small indigenous root.

       
Regional Thai cuisine
 
Geographically, Thailand is a diverse country, Thais generally divide it into four distinct regions. The central region is largely delta country, dominated by the Chao Phraya River, and with rich soil. Southern Thailand is peninsula country, with the Andaman Sea on one side and the Gulf of Thailand on the other. The North is cool and mountainous. Northeastern Thailand is a vast plateau and flank by the Mekong River. Each region has its own distinct ethnic peoples, speaking their own dialect, and practicing their own customs.
Therefore, when we sit down to a Thai meal, we are experiencing the many different styles and flavours of the country. The curries and seafood of the South; the courtly dishes of the North; the herby, earthy recipes of the Northeast, with their river fish; the sheer inventiveness of the fertile Central region. Add to this the Chinese influence, which has itself been profound, and the contributions from other ethnic peoples, and you have a most wonderful melting pot.


Central Plains
Although the presence of Bangkok in the heart of the Central region has acted like a magnet to draw in regional influences, there are still many local specialties that mark out the food styles here as distinctively Central. The best rice is grown in this region, notably the khao hom mali, or jasmine rice, that is so highly rated as a Thai export. There are three curries typical of the region, namely the familiar green curry (kaeng khieo wan) to which is usually added poultry or fish; a hot curry known as kaeng phet , and a milder version called kaeng phanaeng . All are based on coconut milk.
Tom Yam , the famous hot and sour soup, originates from the Central region. There is also a creamy coconut milk soap made with chicken called tom kha kai  . Yam, the tangy salads, are a Central invention. Haw mok, little banana leaf cups of a soufflé-like mix made from red curry paste, egg and coconut milk, with seafood added, are a popular snack item. Phat pet  is a stirfry with basil and curry paste. Most meals in the Central region will include an omelets of some kind, either a plain one served with a thick sweet chilli sauce, or with oysters added. There is a more substantial omelets filled with ground pork, tomato and onion, called khai yat sai.
The Chinese influence is especially strong in the Central region. You will find it in the plain soups that usually include tofu, ground pork and green squash, in the clay pot dishes, and of course in the noodle dishes such as kuay tiaw .
Travel a little with in the Central region and you will find some real local specialties. At Nakhon Pathom, to the west of Bangkok, you will find sticky rice and coconut steamed in a length of bamboo. This is known as Khao lam. You will also find it at Nong Mon market in Chon Buri province, near Pattaya, a road side market about a kilometer in length that is also famed for its dried fish. Chanthaburi, close to the Cambodian border, has its own noodles fried with crab meat. A distinctively flavoured leaf,  chamuang , grown in the forests here , and is used in curries. There is a chilli paste dip from the coastal areas of the eastern Central region, made from crab egg and yellow chilli.
Travel southwest of Bangkok to the town of Phetchaburi and you will find khanom maw kaeng, a baked custard. There are many varieties but they are all based on mung bean, egg and coconut milk. Slightly further south , along the coast , Cha-Am and Hua Hin are renowned for their seafood. Cha-Am has a picturesque harbour where oysters are bought in fresh by the boat load. Kanchanaburi, further west towards Myanmar, has a tremendous variety of curries created by the Mon ethic grouping.
 
The North
Because of the cooler mountain climate there is a large variety of vegetables in northern Thailand than in other regional Thai cuisines, and roots and herbs have a strong presence. There are many sour and bitter flavours, especially apparent in the Soups.
People of the North prefer glutinous rice to white rice, rolling it into balls with their hands, and dipping into dishes and sauces. Som tam, the spicy green papaya salad highly popular in the Northeast, is also a familiar dish in the north.
Popular dishes include khao soi, a curry broth with egg noodles and chicken, pork or beef; and kaeng hang lay , a pork curry seasoned with ginger, tamarind and turmeric. Curries are thinner in this region with the two most popular curry dishes are kaeng yuak, made with banana palm hearts; and kaeng khanoon, made from the aromatic jackfruit. Sausages are a specialty. The best known is sai ua, which blends ground pork with dried chillies, garlic, shallots and lemongrass to produce a spicy red sausage.
The North is noodle heaven, the ethnic mix of Yuananese, Shan and Burmese having produced a seemingly endless range of kuay tiaw and khanoom cheen dishes. In Chiang Mai, the  khao soy egg noodles eaten with chicken or beef curry and a number of spicy and sour side dishes was brought in by the caravans of Yunnan Moslems. Khanom chin nam ngiew  is soft thin rice noodles with pork rib, tomatoes and black bean sauce.
No visit to the North is complete without sampling a khan toke dinner. The name derives from a  khan , or a bowl , and a  toke , a low round table made of woven bamboo, plain or lacquered. Guests sit on the floor, usually watching a cultural performance, and serve themselves from the assorted dishes of northern specialties placed on the table.
 
The South
The South is home to most of Thailand's Muslims, its largest religious minority. They are mostly concentrated in the provinces adjacent to Malaysia, where Malay is spoken as commonly as Thai. In other southern provinces such as Songkhla and Phuket, Chinese predominate.
Southern food reflects all this diversity. The coconut is used to the full, its milk thickening soups and curries, its oil for frying its grated flesh as a condiment. Cashew nuts and pineapple also grown in volume, and from a familiar part of the cuisine.
The warm seas produce an abundance of fish, big lobsters, crabs, mussels, squid, prawns and scallops, prepared simply by steaming or frying, or more elaborately by cooking in a clay pot with noodles. Southerners like their food chilli-hot, and are also fond of the bitter taste imparted by a flat, native bean called sataw.
A dish very typical of the South is kaeng tai pla, a very hot curry made with fish stomach, green beans, pickled bamboo shoots and potato. Fresh turmeric turns this and many other southern curries a distinctive yellow.
There is even a dish that is called simply "yellow curry" (kaeng leuang), made from fish,green squash, pine apple, green beans and green papaya.
The Chinese dish of thin rice noodles knowns as khanom chin appears here in a spicy fish curry sauce, serve with cucumber, pineapple , pickled cabbage and other fruits and vegetables. Roti. A round flat wheat bread descended from the Indian breads, is a real southern flavourite, totally assimilated into the local culture.
Coffee, grown in the south, is a popular beverage and coffee shops can be found throughout the region. In some parts the coffee will be roasted on the premises with a charcoal-fire boiler, and serve with a range of snacks that can include steamed buns dumplings and a form of doughnut called pa thong ko.
 
The Northeast
The Northeast was long regarded as remote from Bangkok and its direct influence. The Lao kingdoms on the other side of the Mekong River held greater sway over the region until the French drew up their Indochine boundaries in the late 19th century, forcing the vast plateau that the Thais call Isan more firmly into the embrace of Bangkok.
For food, glutinous rice is preferred to the white variety. Roasting and grilling give a strong savoury flavoury to much of the food , as dose the inclusion of herb and pickled ingredients. Chillies also tend to be used with greater gusto here , to liven up a meal that might otherwise somewhat impoverished in terms of cop.
Som tam is an art here. The green papaya is pounded in a mortar with lime juice, garlic , fish sauce and a number of other ingredients. A popular style has a shrimp , cherry tomato and roasted peanuts. Another has pickled field crab and very pungent fish sauce named pla ra.
Kai yang or grilled chicken, is another Isan special , the art lying in the prepation of galic, coriander root, black pepper and fish sauce that is rubbed over the chicken before it is cooked slowly over hot charcoal. A variety of dips are served the chicken. Larb is a kind of salad made by tossing minced meat, poultry or fresh water fish with fresh mint leaves, spring onion , lime juice, grounded dried chili , uncooked rice that has been dry roasted to a brown colour . Neua nam tok is art of salad , using larb-like ingredients, with beef that has been charcoal-grilled so the fat run out: the Thai name translates as "waterfall beef".
An Isan meal will include a spicy soup made from lemongrass, galangal, onions ,kaffir lime leaves and chili. There are many variations, with beef tripe and liver, or chicken and tamarind leaves heading up the list of favourites.
Peculiar to the region is the giant Mekong catfish name pla beuk can be caught only at a certain time of the year, usually in May , it is stored frozen for the restaurants that specialize in this dish.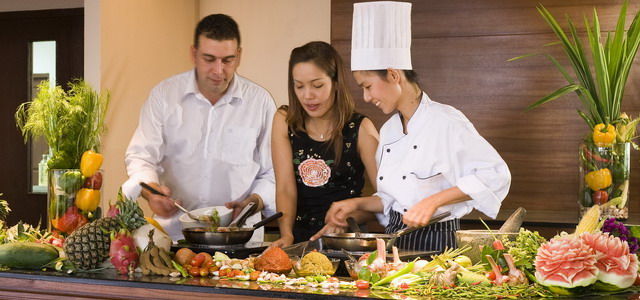 Thai Cooking Schools
 
Finding a cooking school in Bangkok or the major provinces is increasingly easy. Most of the major hotels that have their own in-house Thai restaurant will offer cooking classes, either as intensive hands-on sessions or as watch-and-eat events. In addition there are cooking schools that provide basic skills sufficient to prepare a Thai meal in your own home, or even training to professional standards.