The Phi Phi Islands consist of 2 small islands, south of Phuket, famous for their fine sandy beaches and limestone cliffs which soar out the sea to form spectacular scenery. Add crystal clear water, no traffic and a tropical laid back lifestyle, and it's easy to see why Phi Phi is one of southern Thailand's most popular destinations. Although easy access from Phuket attracts hundreds of visitors daily, by 3pm it's quiet and absolutely gorgeous. At least an overnight stay is recommended to really enjoy the islands, especially in the early morning and evening when the magic of the place really comes alive. Snorkelling around the many coral reefs or climbing to one of the karst limestone lookouts is an brilliant experience.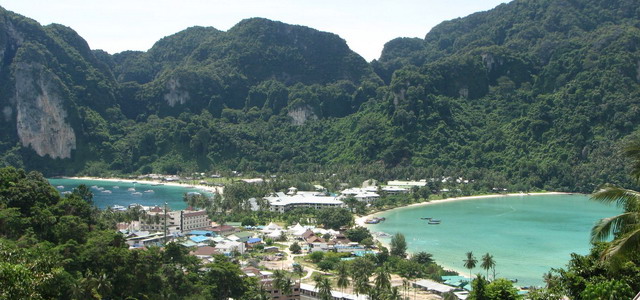 Phi Phi Don Island
The larger of the two islands. Most of the budget and standard accommodation is located around the main ferry port of Tonsai - also the place for nightlife with films and music at the local bars. Other beaches on the island can be reached by local longtail boat, and accommodation tends to be more upmarket with better quality hotels in the more secluded areas. Diving at Laem Thong is excellent, and at Hua Rah Ket to the extreme south. Local dive companies offer diving and snorkelling trips with equipment for hire and breakfast with the sharks is fast becoming a popular activity.
Phi Phi Ley Island - Consists of 90 % limestone cliffs dotted with caves and passages, surrounding shallow blue-green lagoons full of multi-coloured fish and shallow coral gardens - ideal for snorkelling. Located south of Phi Phi Don and uninhabited, the island also has 2 magnificent beaches, Loh Samah and Maya Bay - used as a location for the Hollywood film "The Beach."

Although it is not possible to stay on Phi Phi Ley which has no accommodation, day tours leave every day from Phi Phi Don offering snorkelling, kayaking, or diving trips.