Phuket is the largest island in Thailand. At 540 square kilometres, it's about the same size as Singapore. Just over an hour by jet from Bangkok or Singapore, and with daily connections to most major Asian airports, Phuket is ideally situated for a short break or a relaxing vacation.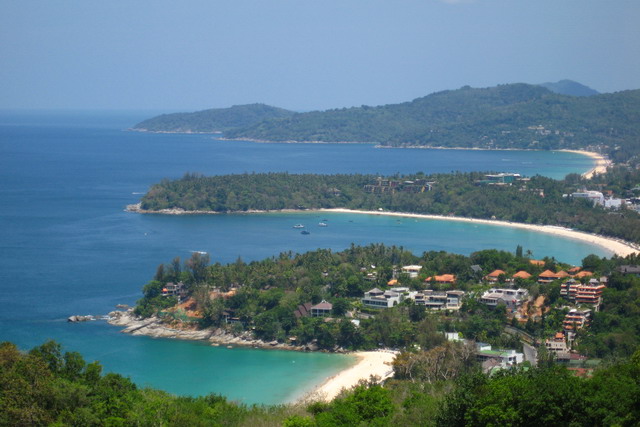 Business hours are generally from 9 am to 5 pm, weekdays, plus 9 am to 12 am on Saturdays, except public holidays when hours may vary widely. Banking hours are Monday to Friday 9.30 am to 3.30 pm. Currency exchange booths operate as retail outlets and are usually open 12 hours a day, 7 days a week. Shops and stores also open from 10 or 11 am to 10 pm, everyday.

Currency is the Thai Baht. Currently, (2010) around 32-33 baht to US$1. Check out our handy currency convertor to find the value in your own currency.

Phone and Fax Service. International direct dialing (IDD) is widely available. Dial 001 + country code + area code (less any leading zero) + phone number. Our Phuket Directory pages have phone and fax numbers for most Phuket businesses.
There are also several Internet Cafes around the island and especially in the more developed tourist locations.

Mail and Postal Services The post offices are usually open from 8 am to 4.30 pm. The Thai post service is usually reliable. Urgent or important items can be sent by EMS services. This is faster and safer but the cost is higher. Private couriers like DHL are also available in Phuket.

Cameras and Film Most popular brands and types of film are widely available in Thailand and in Phuket. Film processing is widely available and one-hour service is common. Throw-away one-time cameras are widely available, too.

Electricity is 220 Volts AC at 50 cycles. Several different plugs and sockets are in use, but two pin flat (US type) or round (European type) are pretty universal.

Geography 

Detailed maps of the island and surrounding areas, are available here.

Some 8°N of the Equator, and well below the latitudes of destructive tropical storms, Phuket's balmy tropical climate is tempered by cool NE breezes from November to March, and by fresh on-shore winds in summer months. Time is + 7 hours ahead of GMT, 1 hour behind Hong Kong, Singapore and Malaysia.

Phuket is the natural base for exploring the Andaman Sea.

The Andaman Sea, separated from the Bay of Bengal by the Andaman-Nicobar Ridge, is part of the Indian Ocean. Thailand's Andaman coast extends for 870 kilometres from the Surin Islands on the northern border with Burma to Tarutao National Park on the southern border with Malaysia. Hundreds of islands are accessible to small craft from Phuket, many of them uninhabited, many of them forested and fringed with spectacular coral reefs. You often won't find a footprint on the beach. Check out our Sailing section.

Two distinctively different varieties of island are found in the Andaman Sea, each of them scenically striking in its own way. Low-relief granite intrusions, including the Surin and Similan islands, run in series roughly parallel to the more dramatic limestone islands. Island groups such as Koh Phi Phi have been shaped by a variety of forces from a massive limestone platform that was deposited 350 million to 450 million years ago.

Phuket Island itself is mainly granite, with low forested mountains and a series of fine white-sand beaches, mostly on the west coast. Much of the forest has been cleared, first for rubber plantations and then for tourism development. The one remaining significant stand of virgin rainforest -- Khao Phra Thaeo Park -- is worth a visit.

Phang Nga and Krabi provinces, mainland and islands alike, display the same dramatic limestone ("karst") geography of the Phi Phi Islands. Khao Sok National Park, just to the north and east off Phuket, has large areas of tropical forest, some of it still remote enough to harbour wild tigers. Many Daytrips are available

Population

The official census shows 231,206 people living in Phuket. Since this figure only includes those registered as resident in Phuket province and there is a significant (semi-permanent) work force from other provinces of Thailand and as many as 35,000 visitors at any one time, it is likely that a more realistic figure would be much higher
Phuket Town, the main town, has over 60,000 inhabitants.
Patong Beach, the most developed of the west-coast beaches, has evolved from a fishing village into a thriving little resort city over the past 15 years or so.

Ethnic composition

Thai
Chinese
Muslim (originally of Malay descent)
Chao Le (sea nomads)
European
Indian and Arabic

Industry 

Tourism

In the past decade, this industry has become the biggest earner for the area, and it continues to grow. One of the biggest issues now is how to retain the benefits of tourism while sustaining the natural attractions that brought the visitors here in the first place.
Phuket now gets more than 3 million visitors every year, and this number is growing. The area is a popular holiday destination for both Asians and Westerners.

Other industries

Rubber. First introduced from Malaya in 1903, the orderly ranks of rubber trees soon came to define much of the local landscape. Rubber plantations are still much in evidence, but soaring real estate values and the boom in tourism has meant that land is being turned to other uses.

Tin. This mineral has been mined on Phuket from time immemorial; The demand for tin is down. Tin dredging in offshore waters has been restrained in the past few years, moreover, by zoning regulations designed to help protect the coral reefs and beaches of the west coast. Old tin-mine workings on land, meanwhile, are being converted from unsightly scars in the landscape to beautiful resort hotel developments, yacht marinas, golf courses and bungee-jumping facilities.

Coconuts, pineapples, bananas, cashews, etc. Agriculture of various sorts is still an important part of Phuket's economy, but more and more farming land -- even rice paddies -- are being given over to housing, roads, and other infrastructure.

Fishing. Fishing is still an important part of life for the people living along the coast. But small-scale fisheries are being hurt by modern trawling, some of it illegal. Large-scale fisheries, meanwhile, are threatened with the depletion of commercial fish stocks from over-fishing.

Climate 

Temperatures. Year-round temperatures on Phuket vary between 21-34ºC. Water temperatures range from 26-28ºC, which means wetsuits are not necessary to enjoy water sports. The northeast monsoon season, roughly November till April, brings consistently sunny weather, cool breezes and low humidity, with moderate seas.
The southwest monsoon, May till October, sees the rainiest and most unpredictable weather along with frequent swells off the Indian Ocean.

Environment

On the island of Phuket and on the adjacent mainland, tropical rainforests of various types provide excellent opportunities for trekking. (See Sports & Recreation)

The fringing coral reefs of the area include some of the best in the world, and sport diving has become a major Phuket-based recreational industry. (See Watersports and Diving.)

 This region's coral reefs are home to 106 coral reef fish species that have already been identified. At the same time more than 210 species of hard coral play their parts in building the reefs of the Andaman Sea. We can add to this incredible fauna an undetermined number of soft coral species plus tens of thousands of other marine organisms, including crustaceans, echinoderms, and worms, each with its own role in maintaining the coral reef ecosystem as a whole. See our extensive diving section.

These waters include more than 850 species of pelagic fish (open-water as opposed to demersal, or those living near the bottom), many of them of commercial value. The Andaman Sea is on the migration routes of classic fighting fish such as the blue marlin. Other much-sought-after trophy fish are black marlin (relatively scarce), sailfish, barracuda and a variety of sharks, notably tigers and makos. Check out our fishing pages.

Five species of sea turtle nest on islands in Thai waters -- leatherbacks, green turtles, loggerheads, hawksbills, and Ridleys. All of these are endangered species, and they are less frequently sighted every year. Aside from more than 30 recorded species of sea snakes, the only other marine reptile in the region is the brackish-water crocodile, locally all but extinct, a species which inhabits mangrove swamps and river estuaries along the southern peninsula.

Other marine life of note includes the mammals. At least two species of dolphin are commonly found in Thai waters: the Indian porpoise and the long-nosed dolphin. Whales are occasional visitors, as well. The dugong, or "sea cow", is now all but extinct; and the Thai Fisheries Department has declared it a protected species.

Conservationist note. All of the local marine habitats -- coral reef, mangrove swamp, and pelagic -- are currently suffering pressures from a variety of sources, including commercial over-fishing, inappropriate fishing methods, shrimp-farming, other forms of pollution, and a number of tourism-related pressures.

Even the pelagic environment, perhaps the least vulnerable of these habitats, has been so intensively fished since the introduction of trawl-net fishing in 1962 that commercial fisheries are threatened with being fished past their maximum sustainable yield.