Nightlife in Thailand
 
Thailand is rightly famous for its nightlife. The kingdom has some of the best clubs playing the latest music, and not all of them in the capital - Thailand's islands host world-class music venues and events (like "Full Moon Parties") as do some of the regional capitals such as Chiang Mai. The kingdom also represents excellent value for film goers - ticket prices are much cheaper than in many other parts of the world and most of the country's cinemas are top of the range. Aside from that, the country also has world-class shows (cabaret, etc.) and the world's top performing artists grace Thailand's shores on a regular basis – so far in 2005, Sting and Marilyn Manson with a host of others planned for the rest of the year! Of course, discussion on Thailand's nightlife wouldn't be complete with a mention of its' world famous Go-Go scene. Again, this is not only confined to Bangkok – Pattaya is a recognised Go-Go centre, but this type of entertainment can be found in a number of parts of the kingdom. Wherever you are in Thailand, a great time can be had by all – whatever your taste in nightlife!
 
Bangkok Nightlife
 
Bangkok has a reputation for wild and rowdy nightlife. In fact, 'sanook' or 'fun' would be a better description. The city's nightlife is relaxed, safe and very enjoyable. You don't need to dress up, and you won't break the bank. The city's nightlife goes way beyond the over-worn naughty image from the Vietnam days. And it really does go on around the clock.
For tourists, the main centers for evening entertainment are concentrated around Silom Road (Patpong, Thaniya, Silom Soi 2 and 4), Sukhumvit (Soi Nana, Soi Cowboy, Soi 33) and most recently Khao San Road. First-class hotels are often good centers for nightclubs and discotheques, which are generally quite cheap and of very good standard. Pubs and bars can be found all over the city, many specializing in live music and usually offering food as well.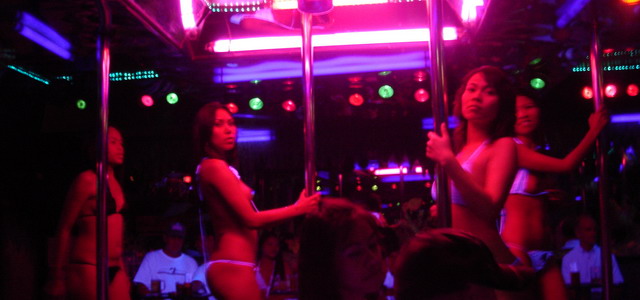 Closing Time?
By law, all bars and clubs are supposed to close at 1 or 2 am (2 am for places offering dance floors and live music).
The reality is quite different, however, as any visitor to the city will quickly find out. Most of the bars in areas like Patpong actually do close at 2 am, but then the action moves to late-night discos in the area and renowned bars like 'the Thermae' where the partying continues through to the daylight hours and on through the next day for those still on their feet.
 
Patpong
Patpong is easily Bangkok's best-known, most notorious nightlife area. The four-acre plot of privately owned land has over 100 back-to-back neon-lit bars catering almost exclusively to men. The short lanes stretching between Silom and Surawong Roads constitute one of the best nightlife areas in the world and, love it or hate it, few will forget their first trip to Patpong.
Patpong earned its notoriety during the Vietnam War when GIs made it their base for R&R (rest and recreation), also known as I&I (intoxication and intercourse). These days Patpong is tamer and pretty much run for the tourists.
The nightlife strip runs along two short lanes, Patpong 1 and 2, with a couple of short interconnecting sois. Bars share street-space with restaurants, massage parlors, a couple of hotels, and, incongruously, a Foodland supermarket, while a night market selling clothes, fake watches and souvenirs runs down the center of Patpong 1 and out along Silom Road.
Although touts and overzealous salesmen will pester the tourist for their dollars, Patpong is one of the safest and least expensive nightlife areas in the world and should remain on the itineraries of every visitor to Bangkok. Get there easily from the Sala Daeng BTS Station or just get a taxi or tuk tuk - everyone knows Patpong!
 
 
Silom Soi 2
The center of Bangkok's gay scene is without doubt Silom Soi 2, a short lane off Silom crammed with bars and restaurants that caters exclusively to the gay community.
Soi 2 is widely considered to be 'more gay' than nearby Soi 4. The bars get hot and sweaty on Friday and Saturday nights and it's hard to move, let alone dance to the trendy underground sounds. Men wandering into these bars at the weekend can expect to be groped from all quarters.
Hot spots along this strip are the ever-popular DJ Station, a disco with drag shows and dancing guys, as well as JJ Park and Your Place. For slightly tamer, more 'hetero' entertainment, head along to Soi 4.
Soi 2 is just a stone's throw from the Saladaeng BTS Station. All taxi drivers know this area.
 
Silom Soi 4
Silom Soi 4 is among Bangkok's hottest nightspots, with several bars, discos and restaurants crammed into the 100-meter long lane. Although definitely a 'gay' area, couples and women will not feel uncomfortable in the crowded bars along this strip.
 
The soi is also the center for the city's club scene and attracts a dedicated crowd of trendy 'in' people. Many of the bars and discos specialize in underground sounds straight from the clubs of London and New York.
Telephone, Sphinx and the Balcony are the hottest venues right now. Also popular are the Icon Club and Pharaoh's. Nearby Soi 2 is generally 'more gay' while nearby Patpong and Thaniya cater to hetero men only (Thaniya attracting a predominantly Japanese clientele).
Narrow Soi 4 is easily missed unless you are looking for it. The soi is directly opposite Convent Road and right below the Saladaeng BTS Station on Silom.
 
Soi Cowboy
Men seeking erotic entertainment in a relaxed atmosphere can find what they desire in the go-go bars and beer joints on Soi Cowboy. With nearly two dozen places where scantily clad Thai girls dance sinuously to the pounding beat of western pop music, and another dozen assorted beer bars and cafes, Soi Cowboy is a spot where a man can find a friendly female companion of astonishing beauty.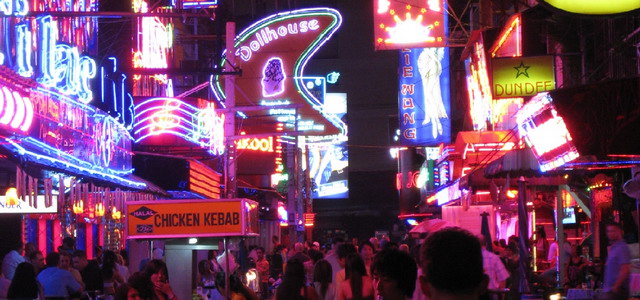 Prices are quite reasonable and cheaper than most of the other red light zones in the capital. Beer costs 55 to 85 baht, perhaps a little less during happy hour and a little more at some of the more popular spots, and the obligatory (soft) drinks for the girls cost a little more.
As one walks down the Soi one finds pretty girls in groups of a half dozen or more standing in front of most of the bars. They are not shy, and will eagerly try to entice the male passersby into buying them a drink, or just going in and watching the action. Once inside you will find the seating is arranged to afford everyone a view of the dance area where girls wearing minimal clothing, or less, dance between the chrome poles to a pulsating beat while colored lights or strobe lights bathe their lithe young bodies. Some of the girls are very acrobatic. Others do little more than sway in time to the music.
Soi Cowboy is located just off Sukhumvit Road between Soi Asoke and Soi 23, within easy walking distance of the Asoke Skytrain station.
 
'Bar Fines'
Most of the bars on Soi Cowboy charge a fee of about 500 baht, known as a 'bar fine', if patrons want to take one of the girls to somewhere more private.
The girls make their own arrangements with the customers, with most charging 1,000 to 1,500 baht for a short tryst, and 1,500 to 3,000 baht for a longer rendezvous. About half the establishments on Soi Cowboy have private rooms upstairs, and there is a no-tell hotel conveniently located near one end of the Soi.
 
The 'artist bars' on Soi 33, Sukhumvit
For those who prefer a more posh and refined version of the beer bars and go-go joints of Soi Cowboy, Clinton Plaza, Patpong or Nana Plaza, there are about a dozen clubs on Soi 33 catering to the upscale foreigner. The young ladies who welcome customers to these establishments wear fancy silk dresses or evening gowns and the bars themselves are a little quieter and more elegant than the ones you find in the rowdier red light zones. They are also quite a bit more expensive, with beers costing 150 baht, which is double the price elsewhere. Gratuities to the management and the hostesses are comparably costlier, with 'bar fines' payable to the club for those who want to escort one of the young ladies off the premises for the evening running about 1200 baht.
The clubs on Soi 33 are sometimes referred to collectively as the 'artist bars' because several have adopted the names of famous European painters. Three close together near the top (Sukhumvit end) of the Soi are the Van Gogh, Renoir and Degas clubs. Monet and Goya are nearby on the same side of the street, and Dali is a recent addition on the opposite side.
Further down the Soi are the Santana, which caters to those who like Spanish decor and music, and the Napoleon Club which features a live jazz combo and snooker tables. At the end of the soi are the Fairy Club and Kosu Mosu, which do not allow non-Japanese clientele to enter.