Canoeing & kayaking
 
Sea canoeing is the eco-tourist activity par excellence, and proves the benefit of the natural approach. The quiet of this mode of tourism heightens your sense of awareness, and wildlife is not scared by your silent approach. It is also an exciting physical challenge providing an aerobic workout and tones and develops your arms, shoulders and chest.

Some of the most spectacular sites for sea canoeing are around Krabi and the island of Phuket and Phang-nga Bay. Sea Cone Thailand, based in Phuket, was the pioneering eco-tour company that launched thousands of travellers on their sea adventures.
 
Sea canoeing adventures from Phuket take small groups of two passengers on inflatable kayaks, accompanied by a support boat carrying food and equipment. Threeday excursions include instruction in kayak management, camping and barbecue dinners and the exploration of eight islands, including Ko Chong Lat and its Blue Room, a three chamber stalactite grotto.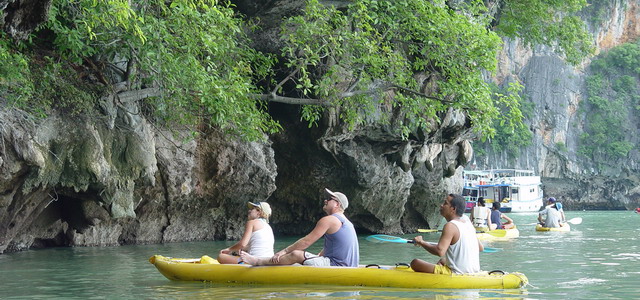 On the southeastern seaboard near the Cambodian border, Ko Chang National Park in Trat Province has more than 50 pristine islands ready to be ex-plored by sea canoe. Ko Kra has some of the best coral in Thailand, but no less spectacular are the golden sands of Koh Mak and the bays of Ko Ngarm.
 
Although sea canoes are easy to handle and all safety equipment is provided, it is best to get instruction first. Don't venture out on a long adventure without a guide. Sea canoe expeditions are running all year round, although the rains from June to October can inhibit operations. There is no age limit for participation, but travelers should be able to swim.
 
Fishing
 
Thailand has some of the most exciting gamefishing sites in Asia especially along the Andaman seacoast of Phuket and Krabi provinces. Marlin, sailfish, tuna, huge garoupa and every kind of shark imaginable are a boat ride from shore. Phang-nga Bay plays host to some of the rarest species of aquatic life in the world, including the rare swimming iguana.
 
Over the past 15 years, deep sea fishing competitions have grown in size and popularity with Phuket and Krabi as centres for a growing fleet of contenders. Tournaments are especially popular during the calm season between September and Mat when contenders reel in record catches of sailfish, marlin, wahoo and barracuda. Major game fishing contests are run according to the rules of the International Game fishing Association which mandate a "catch and release" requirement for sharks, underweight fish, and billfish such as marlin and sailfish.
 
For game fishing, the twin islands of Racha Yai and Racha Noi, some 50 Minutes out of Phuket, offer some of the best local fishing to be had. Sailfish, black, marlin, wahoo and tunas make this, along with excellent snorkeling, a good choice for the novice and experienced angler alike. Power boats are also available for charter for deep-sea fishing expedition out of the Andaman Sea resorts of Phuket and Krabi. Power cruises come fully equipped with fighting chairs and heavy tackle. For those who just want to go along for the ride, the scenery is as breathtaking as the activities.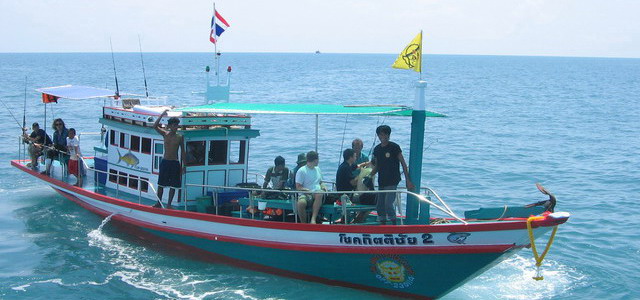 Jet Skiing
 
Jet-skiing has been taken up with enthusiasm all over Thailand with jet-skis available for hire at all major beaches in Thailand-Samui. Phuket, Pattaya, Samet and Krabi. Despite the speed, jet-skiing in Thailand is a safe sport, If you keep your head and watch out for other sea traffic, especially swimmers and snorkellers, Rocks are usually markes, but take care, especially at low tide. When you are roaring around the bays, it's easy to forget that you're in the full force of the sun, so protect yourself beforehand.
 
Mountain biking
 
Mountain biking is a sport increasing in popularity in Thailand, both among Thais and young international tourists. It is an ideal means of touring Thailand's spectacular natural environment; safe, cheap and fun, and environmentally green. Mountain biking in Thailand is a blend of high-grade exercise and natural, cultural and historical discovery.
The hilly North of Thailand is most suitable for mountain biking. The best time to visit is November to February, when the weather is cooler. A number of companies offer well-organised biking tours, most include guides and, on certain tours, back-up vehicles carrying food and overnight equipment. Bike are also widely available in major tourist destinations, where they can be rented at extremely reasonable rates on a daily basis.
 
Rock climbing
 
Rock climbing in Thailand is practised wherever there are rocks-and even some places where there are not.
Clubs like the Thailand Rock Climbing Federation (Tel: 0 2373 8725, 0 2729 4773), and the Bangkok Rock Climbing Club (Tel: 0 2434 6100, 0 2435 5797) can furnish you with details of climb sites wherever you are travelling in the kingdom, including artificial practice walls in Bangkok.
Some of the best locations for rock climbing are in the central regions near Huai Kha Khaeng Wildlife Sanctuary in Uthai Thani Province, or in the spectacular limestone mountains that run through Kanchanaburi, Phetchaburi and Prachuap Khiri Khan.
On the East Caost and easily accessible from Bangkok are sites in Chon Buri. The spectacular coastal cliffs of Railay Beach in Krabi are the climbing focus of the South, with further pitches to be found on some of the islands.
Climbing is a technical sport. You should not go alone, especially if you are a beginner. The discipline is safe if you use first-class equipment, go with an experienced guide and teacher who shows you how to practice safe climbing, and if you follow safety procedures.
As well as safety issues related to climbing, make sure you protect yourself from the sun. It is easy to get burned if you are on an exposed rock for long periods. Sunblock is essential.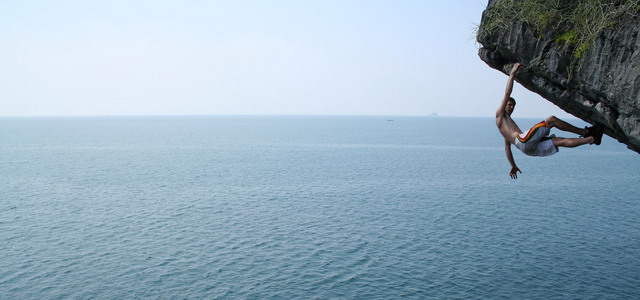 Windsurfing
 
Windsurfing has become one of Thailand's most popular water sports in the last two decades, and it is practiced all over Thailand's beaches. Wind-surfing is not only exhilarating and an excellent way to get fit, it is also quiet, non-polluting and environmentally friendly It is a sport that enquires dexterity and coordination and also strength.
 
You can learn to windsurf on all major beaches in Phuket, Samui, Pattaya and Krabi, as well as on islands of Ko Tao and Ko Chang. Once you have mastered the basics, you'll find boards and sails available everywhere. While you need wind to windsurf, you can get too much of a good thing.
 
Don't go out to sea if the weather is threatening to turn stormy. You should wear a life jacket at all times. Beware of boats and swimmers on crowded stretches of water, especially when you are still learning how to handle your board and sail. It is easy to forget about the sun with the wind on your face, but it is especially strong when reflecting off the water all around you. So wear protective sunblock.


Kite Flying

Since the Sukhothai period, flying has been a popular past-time. According to the annals of history, kite-flying over the Royal Palace was once forbidden by an imperial edict during the Ayutthaya era. Today, however, it is both common and entertaining to see "kite-fighting" during Hot Season months, particularly March and April. During such occasions, opposing teams fly male "Chula" and female "Pakpao" kites in a surrogate battle of sexes. The small, agile Pakpao kites tries to fell the more cumbersome Chula while the male kite tries to ensnare the female kite and drag it back into male territory.
 
Takraw
 
This sport is traditionally played by a loosely formed circle of men who use feet, knees, thighs, chests and shoulders to acrobatically pass a woven rattan ball to each other, endeavoring to keep it airborne, and eventually kick it into a basket suspended above their heads.
 
Swan Boat Races
 
Long Boat Races have been popular in Thailand since the rivers became a main medium for transport in the country. Regattas are featured in many country fairs, which celebrate the end of the annual Rains Retreat. The long narrow, low-slung wooden boats are festooned with flags and flowers, manned by oarsmen and raced with great gusto. The most noteworthy boat races are at Nan, Phichit, Nakhon Phanom, Surat Thani, Ayutthaya, and Pathum Thani.

Thai Boxing

Developed during the Ayutthaya period between 1350 - 1767, "Muay Thai" is a style of boxing unique to Thailand in which combatants use elbows, knees, bare feet, and gloved fists to batter each other into submission. A martial art before it was a sport, Muay Thai has a long tradition and is still surrounded by much ritual. The fights are usually fierce and furious though the best boxers display remarkable skills, as well as great fitness. A good contest is decided by application of technique rather than brute force.

Whitewater rafting

Rafting is fast gaining popularity among the young and young at heart. The mountainous regions of the North are the natural venue for whitewater rafting, especially after the rains from June to October when the rivers swell with floodwater. But first-class rafting is also to be found in the northern reaches of the central region.