Scuba diving is Thailand's most popular water sport and the country boosts some of the most beautiful dive sites in the world – the water is clear, sea life plentiful, transport and accommodation readily available and instruction to a very high standard. Diving in Thailand is comparatively cheap, and once you have achieved your certification in Thailand, you can use it to go scuba-diving all over the world.
Diving is available at all times of the year, although visibility changes according to the season. In the Andaman Sea, the best time to dive is from October to April, and in the Gulf of Thailand from May to September. At recommended dive sites in Thailand the water is so clear that the under-water world is visible from the surface: whale sharks, manta rays, marlin, flying fish, dolphins and coral reefs.
All reputable dive shops are affiliated with PADI or other international dive bodies, and most hold courses in multiple languages. All over Thailand, you can expect modern amenities, international standard boats and professional facilities.
For group or family travelers, all good live aboard operations will take non-divers along at a substantially reduced fee. Friends and family can relax, swim, sunbathe, snorkel and still enjoy the food, trip, scenery and experience of sailing in some of the world's most beautiful waters.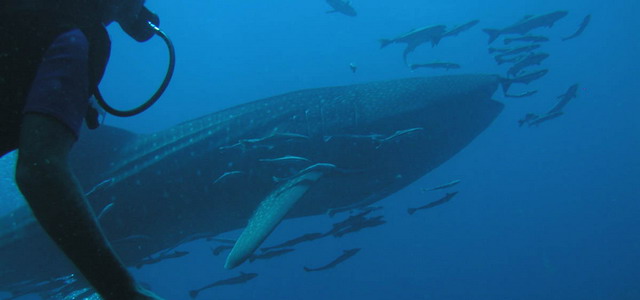 Dive sites
Andaman Sea : Dive sites are found off the coast of Phuket with prime spots such as Shark Point, Red Rock, Ko Yao, Ko Yai, and the twin islands of Ko Racha, extending to the Similan and Surin islands to the west, Krabi and Trang to the east.
Gulf of Thailand : Sites are around Koh Samui, Koh Pha-ngan, Koh Tao, Koh Nang Yuan, Mu Koh Ang Thong Marine National Park, and Koh Chang in Trat Province near the Combodian border.
East Coast : On the east coast of the Gulf, Pattaya offers dive trips out to Koh Larn, Koh Sak, Koh Krok, Koh Rin, Koh Pai and Koh Marn Vichai. There are dozens of dive shops offering courses and tours to any level and in any language.
 
Misconceptions about learning
IT IS DANGEROUS.
Not true. All the recommended dive companies listed here are PADI certified and have well qualified, experienced staff. As long as divers follow instructions and are prepared, there is less danger than swimming in the sea.
 
IT TAKES A LONG TIME TO LEARN AND IS EXPENSIVE
Not true. All PADI centres offer beginner's courses in a swimming pool for a half or full day. Becoming PADI certified will take four days in Thailand. Anyone over eight years can do a "Bubble Blowers" course in a pool for free. A Discover Scuba Diving course will cost around 4,000 baht and take one day. A full Open Water PADI course will take four days and cost around 10,000 baht

IT'S DIFFICULT AND YOU HAVE TO BE VERY FIT.
Not true. Anyone over the age of 12 can do a PADI certified course. As long as they are in good medical condition and have no history of asthma, heart or breathing problems, a severe cold or problems with your ears, then they are ready to dive.
Precautions & preparations
There are some precautions and preparations that should be taken before diving, whether you are experienced or a beginner.
Never go diving too soon after or before flying. The change in atmospheric pressure can cause "The Bends" either underwater or in the air, so divers should always consult an instructor to time diving and training to flight schedules.
Never dive after a heavy meal. The blood flows to the stomach to aid digestion and may cause cramp.
Never consume alcohol before diving (including the night before). The underwater effect of alcohol is multiplied many times, leading to disorientation and lack of judgment.
If a heavy smoker, cut down before beginning to dive.
Always follow safety procedures as advised by the instructor.
Never go diving alone.
If a diver has experience but has not been diving for a while (six months or more), they should tell the instructor and ask for a quick refresher course on procedures, safety and practices.
Look for PADI certified dive shops only. Ask around at the resort to see who is recommended. Don't take the first option or the cheapest (necessarily).
If sure to dive before leaving on a trip, access the official PADI site at Padi.com and look for PADI certified dive shops at the destination.
Read as much as possible about the destination. If experienced, a diver should know about the best dive sites before they even get to a resort.