Trekking is one of the most popular outdoor activities enjoyed by visitors of all ages. While trekking you can soothe your mind and spirit in the fresh air and stunning scenery of Thailand's undiscovered wilds, and get a comprehensive aerobic workout at the same time. Treks can range from a single day light excursion to physically challenging adventures of a week or more.

Tak
Trails are found in Umphang Wildlife Sanctuary and the western portion of Thung Yai Naresuan, which together with the adjoining Huai Kha Kaeng Wildlife Sanctuary has been designated a World Heritage Site by UNESCO. Campsites are provided but you must bring your own tent and camping gear. Permits are required for entry into the wildlife sanctuary. These can be obtained at the Umphang Eco-tourism Club in Umphang. Pack light for a jungle trek and bring insect repellent. Most who visit Mae Sot in Tak are determined to see the spectacular Ti Lo Su Waterfall. Tour operators usually offer mountain biking, elephant-back rides, or rafting for part of the long trek, but most of it is done on foot.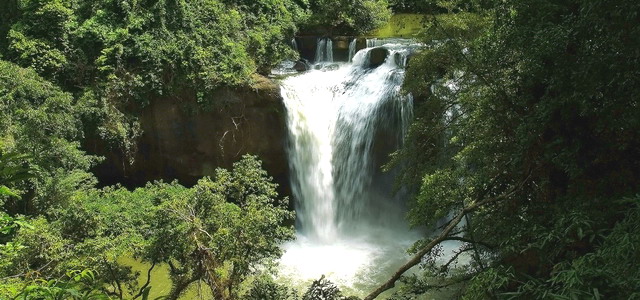 Phitsanulok and Petchabun
Both provinces are popular camping and trekking destinations because they contain several national parks between them, each featuring different landscape and flora and fauna. The rocky hills along the border between the two provinces were Communist hideaways in the 1970s. Nowadays an efficient raod network links the area with the rest of the country, and nature lovers flock there for the waterfalls, the fields of wildflowers and butterflies, and the spectacular landscape, which changes with the seasons. Best time to go is October - December for the wildflowers, although anytime of the year is suitable for hiking and camping.
 
Each of the national parks in the area has its own distinct character. Thung Salaeng Luang National Park, 80 kilometres from Phitsanulok on the route to Lomsak, is marked by its open savanna, which blazes with colour during the wildflower season (July - October). Wild animals are often spotted feeding around these fields.
 
Phu Hin Rong Kla, 125 kilometres from Phisanulok, got its name from the strange-looking rock fields eroded by wind and rains. The park features many hiking trails, most of them leading to beautiful waterfalls.
 
Nam Nao National Park on the Lomsak-ChumPae route is one of the top camping destinations in the cool season (November - February) with its pine forest, caves of stalactites and stalagmites and dry, cool weather. It is a watershed area and the source of several rivers in the North and Northeast.
 
Forest trekking
 
Loei
The province has long been a favourite destination for nature lovers, most of whom come to scale the famous mesa mountain Phu Kradueng. The other two of Loei?s triple lofty treats are Phu Luang, within whose range lies a wildlife reserve, and Phu Rua. Best time to go is November to April.
 
Hiking trails on the summit of Phu Kradueng lead through changing landscapes, from flower dotted meadows to pine forests to waterfalls. The mountain is part of a national park and a natural habitat for rare orchids, birds and wildlife including the tailed turtle, or Tao Pulu
 
Phu Luang, nicknamed "Emerald of the Northeast" is known for its biodiversity. A wide array of wild orchids, ferns and wildflowers make hiking along its trails a delight.
 
Phu Rua, or Mount Boat, is marked by a landscape of sandstone cliffs and oddly shaped formations created by wind and rains. The hiking trails are relatively easy. From the peak, you have a view of the Mekong, a natural border between Thailand and Laos.
 
Nakhon Ratchasima
Khao Yai, or "Big Mountain", sprawls over parts of Nakhon Ratchasima, Prachin Buri and Nakhon Nayok. It is the most popular national park in the country, attracting one million visitors a year with its scenic beauty and abundant plant and wildlife. Khao Yai has four vegetation zones, spanning elevation from 100 metres to more than 1,400 metres : evergreen rainforest, semi-evergreen, mixed deciduous and hill evergreen forest.
 
It is also home to a large array of birds and animals. Any time of the year is suitable for visiting. Fifty trails follow the migratory paths of wildlife to beautiful waterfalls. Commonly spotted animals include gibbons, langurs, deer, and monkeys. You can join a night time safari in which rangers shine spotlight onto nightfeeding herds, making them easier to spot.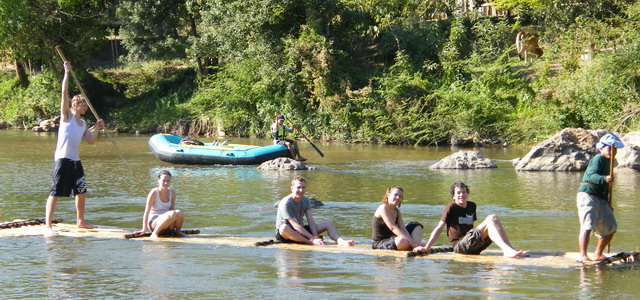 Chiang Mai
The best trails are found in Doi Inthanon National Park where over 360 bird species, spectacular butterflies, wildlife, orchids and other distinct flora vie for the hiker's attention. Within the national park, there are beautiful Siriphum and Chedi waterfalls. The Army Pack Division Headquarters on Chotana Road in Mae Rim District offers camping trips and horseback riding along with basic jungle survival skills training.
       
Kanchanaburi
Home to a large ethnic population, including the Mon, Karen and Burmese, who have long settled in the border towns of Sangkhlaburi and Thong Pha Phum. Most tour operators in Kanchanaburi offer trips to these areas that combine culture and adventure in one easily accessible package. Some of the best hiking trails are in three national parks: Saiyok in Saiyok District and Erawan and Chalerm Rattanakosin in Srisawat District.
 
Surat Thani
Khao Sok in western Surat Thani and the adjoining Khlong Sean Wildlife Sanctuary provide a home for tigers, clouded leopards, Malaysian sun bears, elephants, gaur and many other rare species. The park has hiking trails leading to caves and waterfalls surrounded by virgin forest.
Hiking is also popular on coconut-grove-dotted Samui and Ang Thong Archipelago's Mae Ko, which has a lake at its centre. A number of tour operators on Samui specialise in trekking on both Samui and the main islands of Ang Thong Archipelago.
 
Nakhon Si Thammarat
Most of the activities are centred on Khao Luang National Park, which contains the highest peak in the South, Khao Luang. The area owes a lot of its new found international fame to the people of Khiriwong village, who led the way in community-based eco-tourism.
The hike to Khao Luang (1,835 metres above sea level) starts at Khiriwong village at the foot of the mountain and takes about two days. The trail spans four vegetation zones and leads through the natural habitat of numerous species including, Malaysian black bear, tigers, elephants, leopards and 200 species of bird, plus turtles, lizards and insects.
Khiriwong Village's Eco-tourism Club offers biking tours of Suan Somrom, or fruit orchards that are grown in the forest alongside indigenous trees. This innovative and eco-friendly growing method is unique to the village. Local tour operators offer treks that comprise rafting down Khlong Klai, which forms the northern border of the park, and elephant riding through surrounding forest.
 
Trekking preparation
Treks to suit your requirements are easily arranged through many private operators and government organisations. A trek can range from a light walk in the woods to a grueling physical challenge. Assess your objectives and level of fitness before booking a trek that is right for you.
Safety and medical considerations are important if you are trekking in the wide, as a simple sprain can be a real problem if you are a long way from civilisation. Your trek organizer should have contingency plans and first aid for any unforeseen problems.
Proper equipment is necessary for trekking. Good shoes or boots are a must. Your trek organiser will probably provide backpacks, but make sure you have adequate warm and comfortable clothing, proof against insect bites, and a hat and UV block against the sun.
When exercising in tropical climates, it is recommended to drink up to five litres of water a day.

 
Elephant trekking
 
Chiang Mai : At Chiang Dao Elephant Camp in Chiang Dao District, elephants are trained to perform for tourists and available for rides in the nearby forest. Mae Taeng Elephant Camp in Mae Taeng District, offers bamboo rafting in addition to elephant-back rides.
 
Chiang Rai : Elephant riding is available at Mae Kok Elephant Camp on the bank of Mae Kok. You can take a ride through the surrounding forest and to nearby Karen hilltribe villages.
 
Kanchanaburi : An elephant ride through the jungle is popular with visitors to Thong Pha Phum and Sangkhlaburi. A ride can be incorporated into a longer trek featuring mountain biking and rafting.
 
The Elephant Conservation Centre : The Centre in Lampang is offering an opportunity to eco-tourists to stay with real-life mahouts. The programme lasts three days and two nights. The provided activities are fun-filled and environment-friendly. The participants will have a chance to gain first-hand experience on nature, wildlife and, of course, elephants.