Getting Around Thailand
 
Bus services and coach journeys to destinations outside Bangkok are reliable and very inexpensive. They are also relatively punctual. You can select either government or private bus services.
 
The Transport Company, a state enterprise, operates public bus services. Air-conditioned buses are quite comfortable and include beverage services and videos (which may be annoying). Public bus services operate from three principal terminals in Bangkok, each serving a different region of the country. If you are going to the east, you need to get a bus at the eastern bus terminal, also called 'Ekamai', on Sukhumvit Road (opposite the Major Cineplex). For those going to the north, northeast and central provinces, you should go to the northern bus terminal, known as 'Mor Chit', on Kamphaengphet Road. For buses to the south, you have to cross the Chao Phraya River to Pinklao where the southern bus terminal (called 'Sai Tai Mai') is located. Buses to the larger towns and popular destinations normally leave every hour or half hour.
 
Both ordinary and air-conditioned buses are available. And you can opt between first or second-class air-conditioned bus. For long-distance destinations, food and beverages are served on the air-conditioned buses. On some routes, buses make scheduled stops at local restaurants for about half an hour, where you can take time to fill your stomach and use the toilets.
 
Apart from government-run buses, you can choose a private bus service, available between the major tourist and business destinations. Fares may vary from company to company but can be substantially more than public buses. Private bus services also run between the various regions.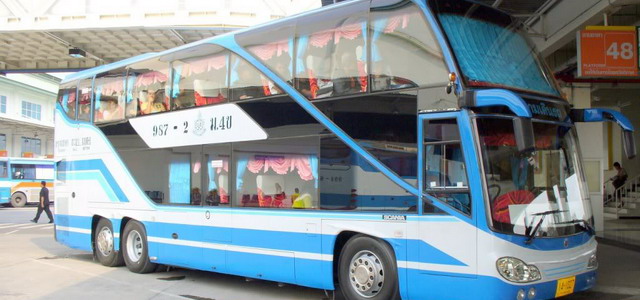 Bus terminal information

Northern & Northeastern Bus Terminal
Located on Kamphaeng Phet 2 Road, a little way from Chatuchak Market.
For information     Call 0 2936 2852 0 2936 2852 to 66, 0 2936 2841 0 2936 2841 to 48
Reached by Buses     3, 26, 29, 34, 39, 49, 59, 77, 96, 122, 134, 136, 138, 145, 157, 159, 170, 509, 510, 512, 517
    
Eastern Bus Terminal
Located on Sukhumwit Road at Soi 40 opposite Soi 63 (Ekkamai).
For information     Call 0 2391 6846 0 2391 6846
Reached by Buses     2, 23, 25, 38, 40, 48, 98, 501, 511, 513
BTS Skytrain     Ekkamai Station
    
Southern Bus Terminal
Located on Borommarat Chonnani Road, about 7 km. from Pin Klao Bridge. Besides the southern buses, the buses going to western provinces like Nakhon Pathom and Kanchanaburi also depart from here.
For information     Call 0 2894 6122 0 2894 6122
Reached by Buses     28, 30, 40, 57, 66, 123, 124, 125, 127, 146, 149, 159, 201, 170, 174, 177, 183, 507, 511, 515, 516, 539